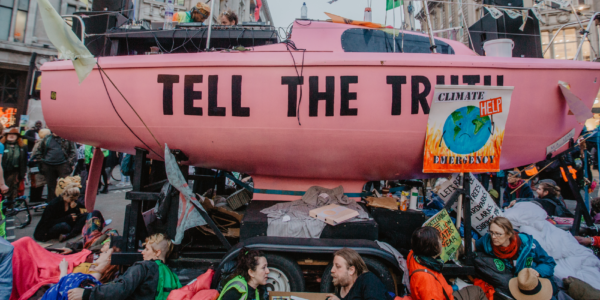 News
Bristol launches the Rebellion, with XR Youth blocking Clifton Suspension Bridge and XR Bristol carrying out actions along the harbourside.

In light of Bristol City Council's Covid statement of August 19th, Extinction Rebellion Bristol offers reassurance that its upcoming protest is safe and legal in respect to Covid regulations and highlights the need to keep the climate and ecological emergency at the top of the public agenda.

In the final few days of preparation for the upcoming rebellion, James reflects on what we can learn from the highs and lows of our 2019 Summer Uprising.

From 28th - 31st August, four days of COVID-safe actions will take place on Bristol's harbourside, stretching from the Arnolfini, across Prince Street Bridge to the M-Shed.

Rosemary Collins, Journalist & XR Bristol Social Media Coordinator, writes about her desire to tackle the climate crisis from a young age, her experience of the power of Extinction Rebellion and why we need to rebel in September to force the government to listen.

Lowri Lewis writes about Bristol University's commitment to tackling the climate crisis, and presses the Uni to allow students to climate strike without impacting their degrees.

Johnny Boxshall from XR Weston-super-Mare comments on how our cities may change in the future, and shares his dreams for a different world.

As one of XR Bristol's Press Coordinators, Jennifer Stevenson expresses her regret and rage at the local media job cuts and her support for all independent journalists contributing to upholding democracy.

After a week camped on top of Bristol City Hall and following Marvin Rees acknowledging Bristolians' concerns on air pollution, the rooftop rebels have descended.

Five rebels are stationed on the roof of Bristol City Hall until the Council can be transparent about their targets and progress on tackling Bristol's illegal air pollution. We are still waiting for a response...