Young people occupy WECA offices to demand better buses
September 08, 2023
A group of 5 young people from Bristol have occupied the offices of the West of England Combined Authority (WECA) in Redcliffe, ahead of a march on Saturday afternoon.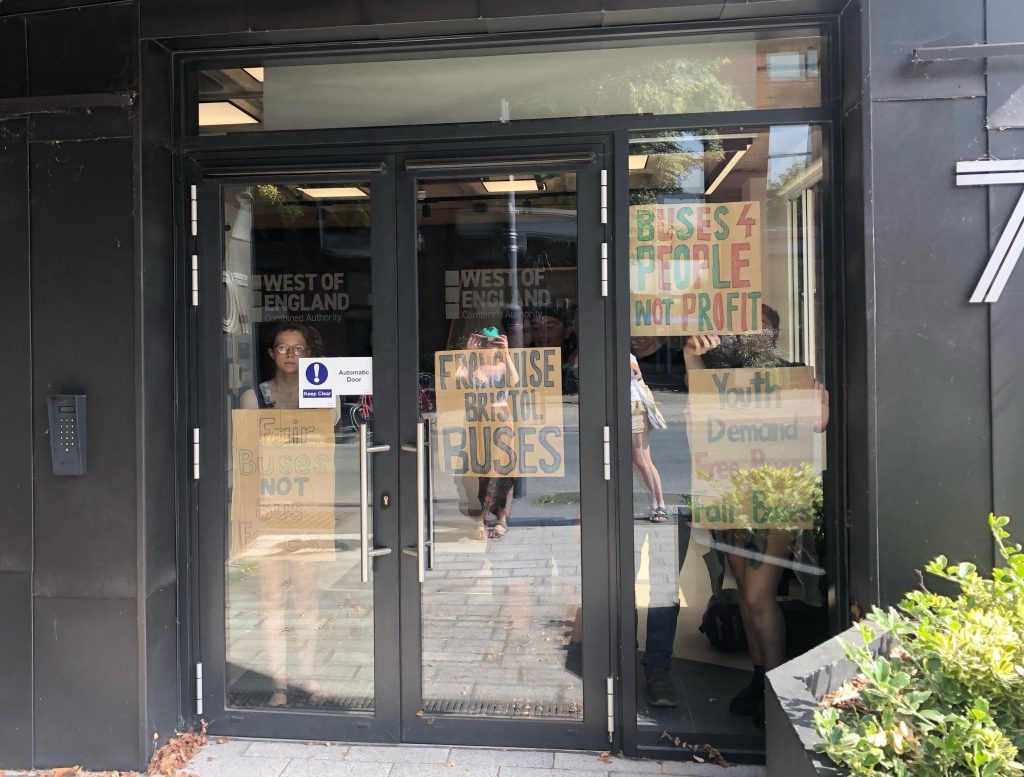 The young people entered the lobby of 70 Redcliff Street, the headquarters of WECA and Metro Mayor Dan Norris, at midday on Friday, demanding action be taken to fix Bristol and the West's broken bus system, and are refusing to leave until the Metro Mayor agrees to bring a vote on franchising to the next WECA meeting.
The occupation comes the day before a march, led by youth groups Bristol Youth Strike 4 Climate (BYS4C) and Extinction Rebellion Youth Bristol (XRYB), will assemble at 1pm on College Green, before proceeding to WECA in Redcliffe.
Supporters of the Saturday march include Bristol Green Party, Reclaim Our Buses, Right to Roam, Winterbourne & Frome Valley Environmental Group, Nailsea Climate Emergency Group, Ditch First Bus, and Bristol Students for Transport. Speakers are set to include Green Party co-leader Cllr Carla Denyer, as well as representatives from various of the groups involved.
Whilst the various groups in the coalition have their own demands and platforms, BYS4C and XRYB – the youth groups leading the coalition – demand the following:
Free – for under 25s, students, and apprentices

We demand free travel within the West of England (including North Somerset) for all those under the age of 25, all students, and all apprentices.

Fair – access for riders and conditions for drivers

We demand a fairer bus service, including reversing the cuts to bus routes and improving working conditions for drivers.

Franchised – for people not profit

We demand that WECA follows suit with other local combined authorities around the UK by franchising our bus network, putting power back into the hands of local people and allowing our buses to be run for the good of everyone – not for private profit.
The campaigners say that we need to take public control of our local buses through 'franchising'. With a franchised bus network, local governments would decide routes, timetables, and fares. Bus companies would compete to operate routes but must meet the criteria set out by the local/combined authority. This would prevent cuts to routes and the frequency of buses, help reduce fares, integrate different companies' routes and tickets, and hold operators to account.[1]
In the Greater Bristol/Bath area, this could be done by the West of England Combined Authority (WECA), led by Metro Mayor Dan Norris. Although FirstBus may still win many contracts, the campaigners say that franchising would allow the public to hold them to account more easily.
Franchising is already successfully used in Greater London, and is set to come into effect in Greater Manchester later this month.
The region has experienced drastic cuts to routes and services over the past year, with 42 services being cut in April,[2] and a further six being cut in June.[3]
One of the occupiers said:
"We've occupied WECA's offices because we need urgent action to fix our broken bus system.
Since the start of our campaign last June, we have seen lots of talk but little action from politicians, while the situation has gotten worse, with dozens of routes cut. Real people across the West of England are being affected by these unreliable services and cuts, leaving many unable to access key services, get to work or school, or see family and friends. WECA needs to be bold and take public control of our local buses to end the madness that entirely private control under companies including FirstBus has caused.
It's time for Metro Mayor Dan Norris to get on with the job, and we're not going to stop sticking up for our communities until he does."
XR Youth has previously taken action by blockading Airport Flyer buses,[4] hanging banners off the harbourside cranes[5] and Cabot Tower,[6] and spray painting bus stops. The Reclaim Our Buses coalition has also gathered over 2,000 signatures in support of public control.[7]
References
[1] – https://weownit.org.uk/why-franchising
[2] – https://www.bristolpost.co.uk/news/bristol-news/bristol-west-england-bus-cuts-8049830
[3] – https://travelwest.info/bus/bus-service-changes/
[4] – https://thebristolactivist.com/2022/11/06/bristol-airport-bus-youth-activist-protest/
[5] – https://xrbristol.org.uk/2022/06/19/xr-youth-launch-free-and-fair-buses-campaign/
[6] – https://www.bristol247.com/news-and-features/news/banners-dropped-top-cabot-tower-demand-better-bus-services/
[7] – https://www.megaphone.org.uk/petitions/take-west-of-england-buses-into-public-control
Notes to editors
For more info, contact 07570 088433 or bristol.ys4c@gmail.com
You may use the photos attached and any that follow – please credit to BYS4C
WECA is located at Rivergate House, 70 Redcliff St, Redcliffe, Bristol BS1 6AL. Google Maps link here
XRYB's webpage on the campaign