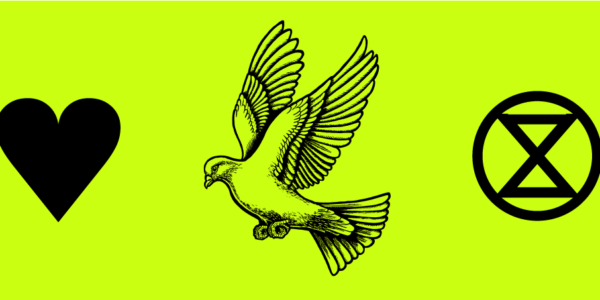 Prepare for the Rebellion
During Rebellion, it is essential that we each take responsibility for ourselves and for those around us. This comes down to proper preparation prior to Rebellion.
There are four main trainings that are very highly recommended for every Rebel in the run up to Rebellion.
Non-Violent Direct Action training
Non-Violent Direct Action (NVDA) training is an in-depth training where you learn essential skills for taking part in NVDA, from the practicalities of blocking a road, to knowing your rights when arrested or threatened with arrest, to supporting other Rebels physically and emotionally.
NVDA workshops are happening every Saturday in the run up to Rebellion.
---
Arrest Watch
We should all be capable of and confident in witnessing an arrest, safeguarding both the rights and the wellbeing of a Rebel. Arrest watch is a short training in which you learn the basics of what to do if someone near you is being arrested or threatened with arrest.
Watch the training video
(password is ProsecutePolluters)
---
Know Your Rights
Although this is covered during the NVDA workshop, you can learn more about your rights whilst under arrest, threat of arrest, or stop and search, as well as the arrest procedure, by reading this guidebook from Green and Black Cross
---
RISECWUP
RISECWUP is less a training and more of a guided reflection exercise. It is best done in small groups, such as Affinity Groups. Each participant reflects on their reasons for taking part in NVDA, the possible impacts and consequences for them and those around them, what risks they face, and what preparations they can make to best protect themselves from uncertainty.
Watch the introductory video
(password is risecwup)
Read the longer script with other legal resources
---
Please make the time to prepare for Rebellion. If you can only make one training aim for the NVDA.
All these trainings and more can be found on this calendar. If you have any questions about arrest support during the Rebellion, contact legalsupport.xrbristol@protonmail.com
---
Considering Arrest?
Arrest and Privilege
We understand that considering arrest is not a decision taken lightly. Without a doubt, arrests during our international rebellions have been important in bringing the climate and ecological emergency into the mainstream and carrying out XR's strategy.
Yet arrest is an option that many cannot consider, whether due to ethnicity, immigration status, disability, caring duties or other contexts. People who are mistreated by the police can feel unwelcome in a movement that uses arrest as a tactic.
So when talking about arrest, please bear in mind the following:
1. Take into account the problematic relationship between the UK Criminal Justice System and Black and Minority Ethnic communities. Please take two minutes to read this blog on the issue.
2. Emphasise the many amazing and equally valuable ways in which people contribute to XR without being arrested or risking arrest.
3. Avoid 'hero' narratives. Risking and dealing with arrest is greatly appreciated by the movement but it is important to show appreciation in a way that doesn't diminish the efforts of those who risk and give a lot to the movement in other ways.
4. Avoid showing admiration or gratitude to the Criminal Justice System. Even if your personal experience or interactions with individuals is positive, as a system it has failed for a long time.
Recognising the ways in which our society discriminates against certain communities and Ethnic groups makes us much better placed to combat the climate and ecological emergency as a movement that is made up of people from all walks of life and cultural backgrounds.
---
Join the September Rebellion!