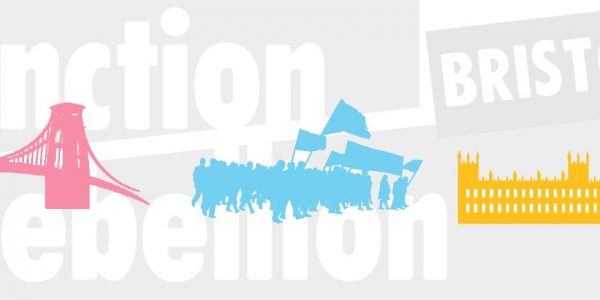 The BIG One
For the record, this is the page we had for The BIG One
Welcome to
The BIG One
Everyone is welcome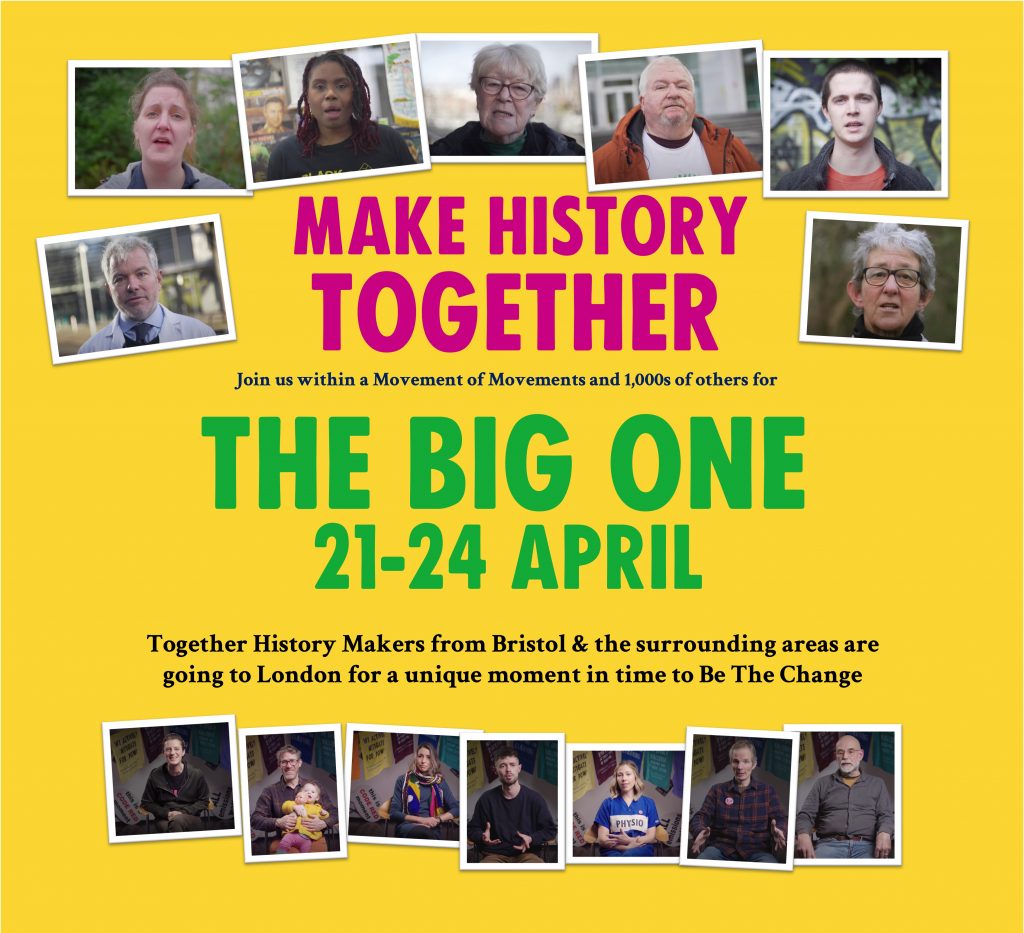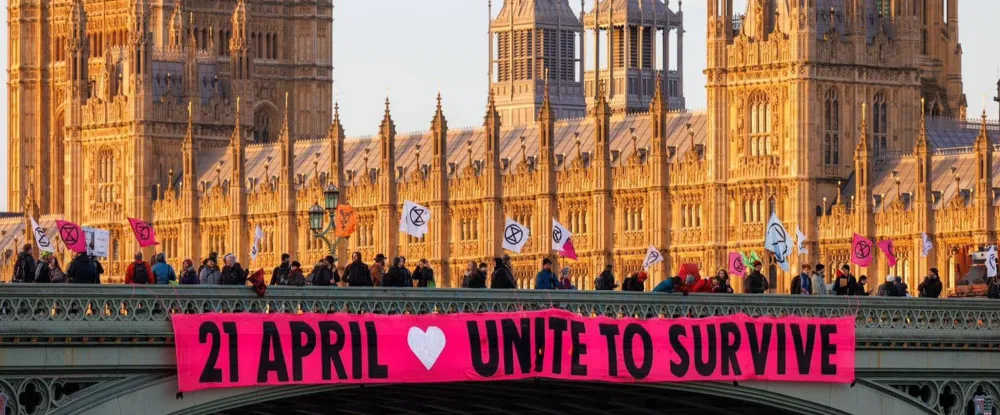 Read on to be inspired to take part in The BIG One – four days of sustained, mass activism
The is a lot to know, but rest assured there are plenty of familiar faces from XR Bristol and beyond going to be there.

---
Here's a rough plan in brief
Friday 21 April – The day we have all been waiting for.
Stop Aviation Expansion march and rally
Bristol Rebels meet at Trafalgar Square 13:30 for a 14:00 march to Department for Transport.
We will be accompanied by the more than 400 strong Climate Choir, the Red Rebels, Rhythms/Samba Band, Landing Crew, and airport expansion resistance groups from across the country.
We will march down Whitehall then via the Department for Levelling Up, Housing & Communities and onto The Department For Transport we will be joined by speakers, and other transport related action groups.
---
Saturday 22 April – Come as your favourite animal or plant for the Biodiversity March.
Bristol rebels will meet at 11:30 at Church House Great Smith Street, then go to Westminster Abbey where marchers will gather from 12.30.
The march will be led by XR Rhythms, with periods of silence, birdsong and sounds of nature along the way.
Finale ~ Die-in 14.45–15.00 Spread out and lie down in silence, for a symbolic spectacle.
---
Sunday 23 April – Bristol rebels will meet at 09:30 at Tower Hill Tube to help with a banner drop along the Marathon route – providing inspiration for 50,000 runners!
---
Monday 24 April – in the morning from 7.00 there will be people's pickets at Department for Transport and Department for Levelling Up, Housing and Communities with speakers.
---
All the latest XR information at your finger tips
We know being XR can lead to a lot of "tech" and "chat overload" so we have tried to simplify things…!
We have two primary XR Bristol WhatApp Chats
XR Bris General Chat
https://chat.whatsapp.com/Jen9tjIJd003CtMLKSGydm
A place for Bristol XR rebels to chat & connect with each other, share news, and arrange to meet up.
XR Broadcast Chat
Join our Broadcast where we will put out Bristol specific updates via https://chat.whatsapp.com/LCZEUi1viYb8ejFyOHKrTT
There are some more generic XR UK information sources we would recommend:
Rebellion Broadcast – THE place for the latest XR News
https://t.me/rebellionbroadcast
The BIG One main website – with FAQs and much more
https://extinctionrebellion.uk/the-big-one/
The Unity Agreement – an invitation to all participants at The Big One to act in a way that promotes respect, love, and safety for all who attend.
https://extinctionrebellion.uk/the-big-one/unity-agreement/
The BIG One Programme – the ultimate resource for what's going on where
https://extinctionrebellion.uk/the-big-one/programme/
---
Meet our Extinction Rebellion Bristol Rebels
Ordinary people doing extraordinary things… in unprecedented times.
You can be part of our Movement to unite in the greatest challenges of our times.
Watch their stories as you progress through the various pathways below.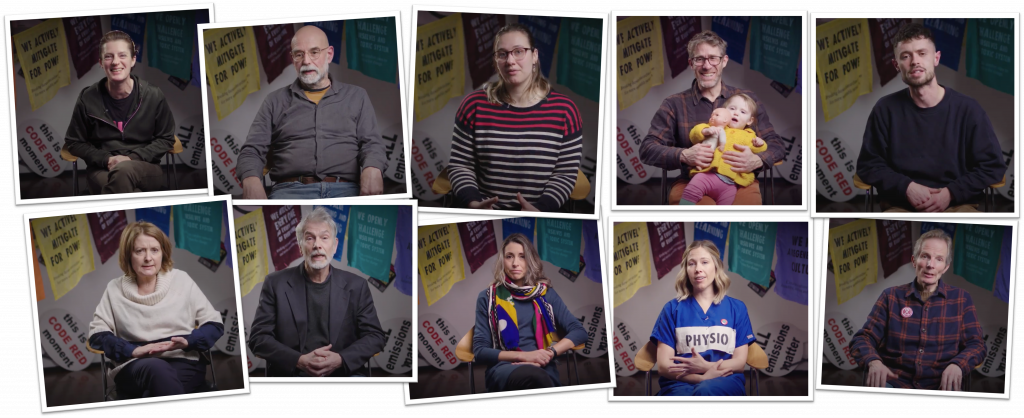 ---
New to XR & Activism?
Want to find out more about XR & dispel some myths?
---
Find out what XR means to Bristolians
Read about how to start getting involved with XR Bristol
Hear from others like you & how they got started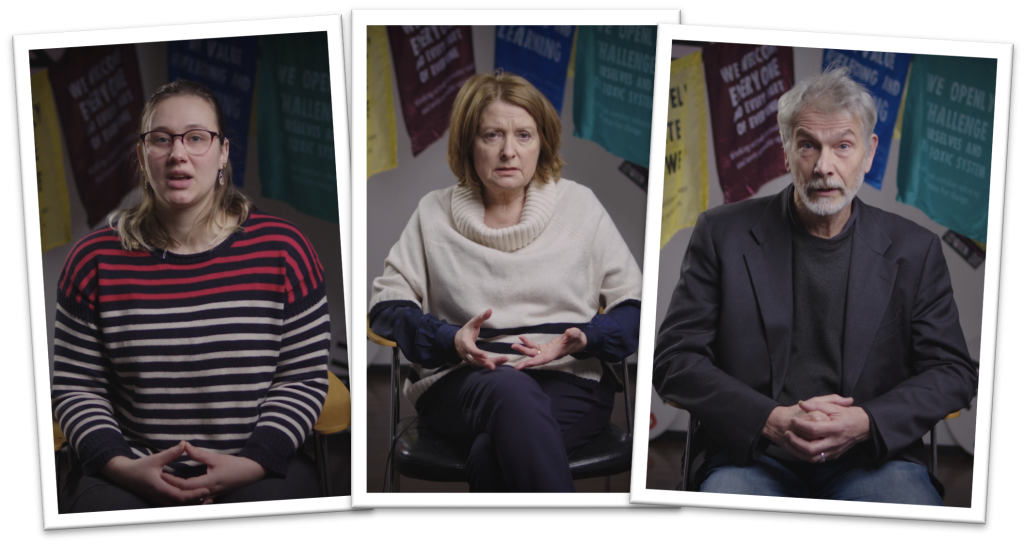 Involved but resting?
Know you need to do more & re-engage with the growing movement?
---
Were you active but stopped in the Covid years?
Feel you could and should be doing more in your community?
Watch our short video intros to re-energise you

---
Extinction Rebellion Youth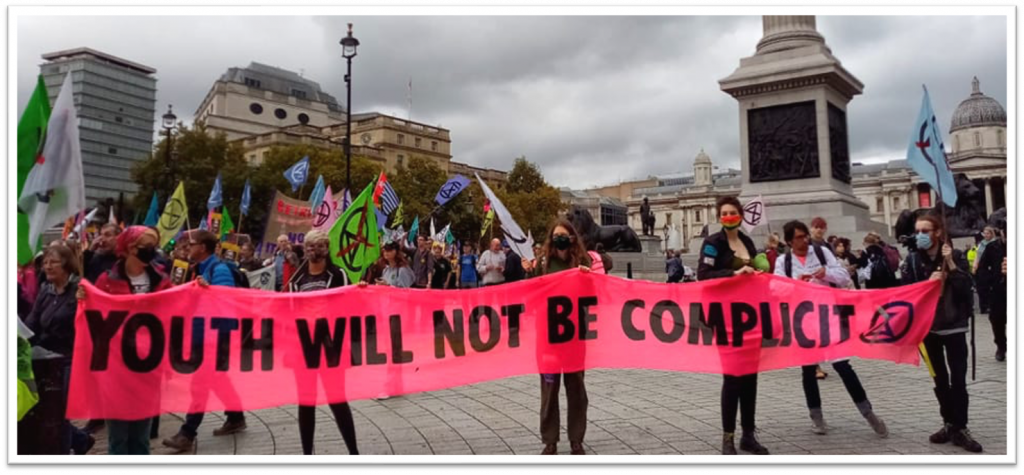 Extinction Rebellion Youth Bristol is the autonomous, climate and social justice focused, youth wing of XR Bristol, for those under the age of 30.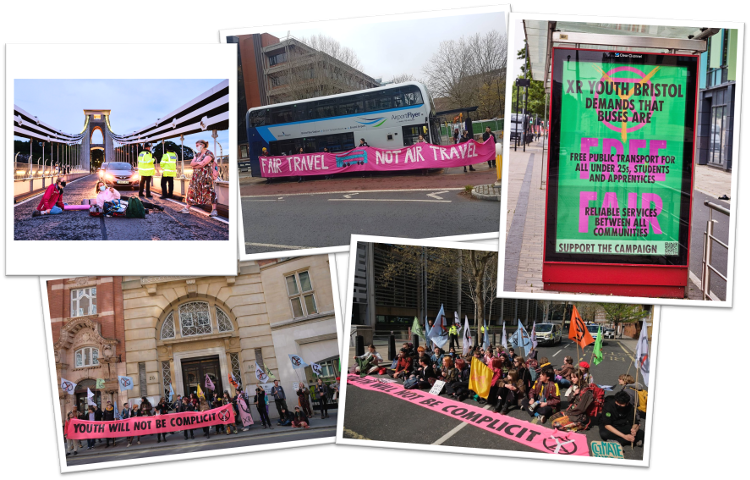 ---
Our XR Bristol Instagram Feed
Our Facebook Feed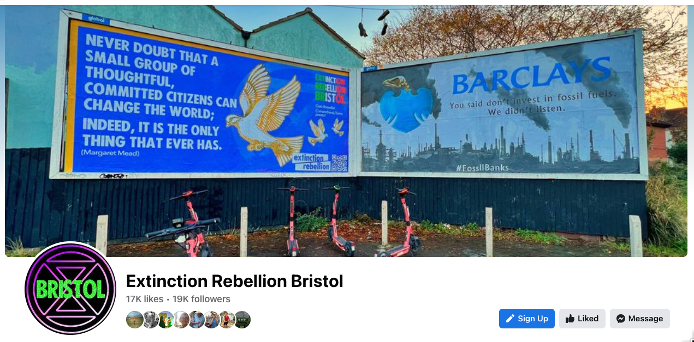 ---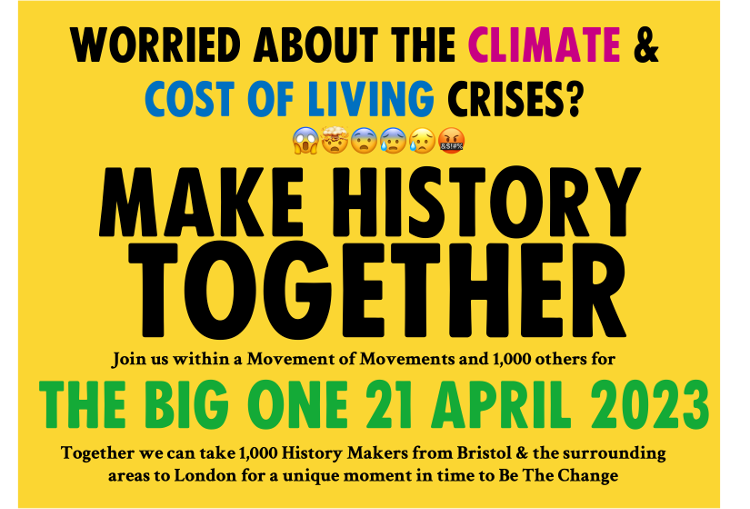 What is your next step?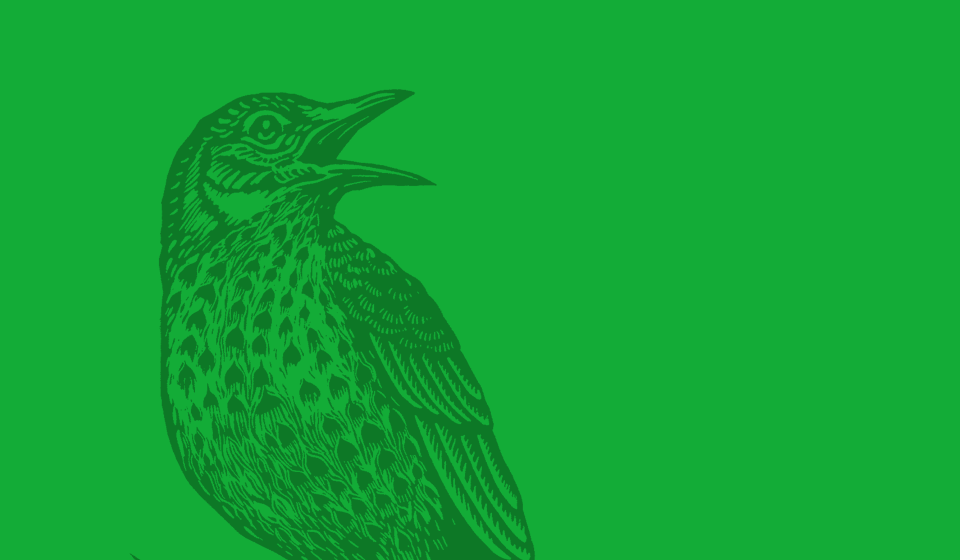 Sign up to the XR Bristol Newsletter
Get the latest XR news and updates about actions and events in the Bristol area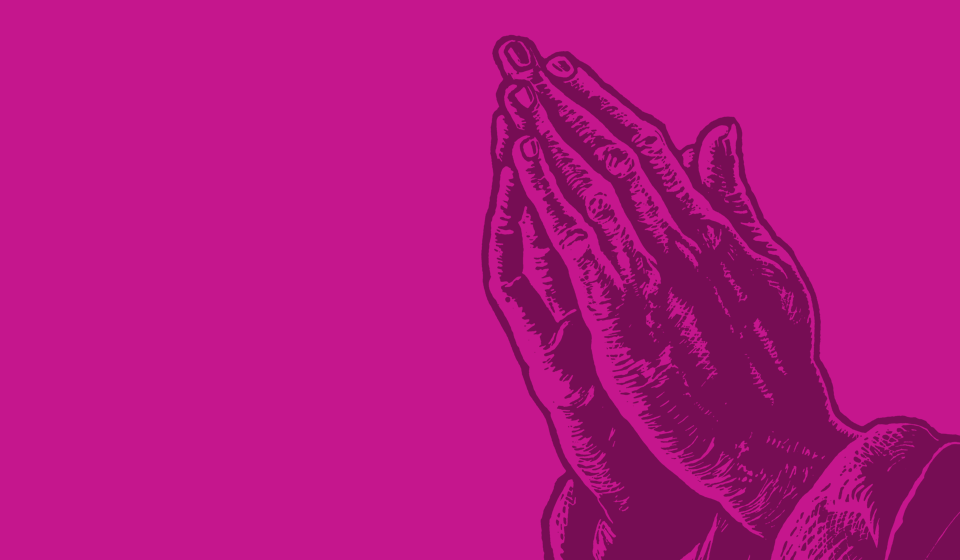 Support us. Donate to XR Bristol
A monthly or one-off donation will help us raise awareness, train members and fund actions.
---