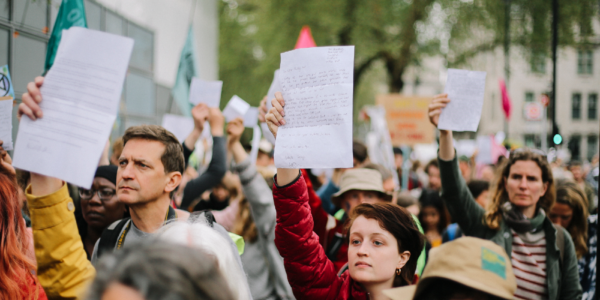 Climate and Ecological Emergency Bill
We know we are in an emergency and that the Government isn't doing enough.
The Climate and Ecological Emergency Bill can change our course — making the Government act with the urgency we need and involving everyday people in a Citizens' Assembly that has real bite.
The Climate and Ecological Emergency (CEE) Bill has been developed with members of XR alongside members of the successful Big Ask campaign that led to the Climate Change Act in 2008, with contributions from prominent scientists and academics.
If the CEE Bill is made law, the Government would have to act fast, accounting for our entire carbon footprint while actively conserving nature here and overseas.
What is a bill?
A bill is a proposal for a new law, or a change to an existing law that is presented for debate before Parliament. It must be passed by the House of Commons and the House of Lords.
Key facts from the CEE Bill
The CEE Bill gives the Prime Minister a duty to ensure that the UK achieves specified objectives on climate change, ecosystems and biodiversity and outlines a framework for how this can be achieved, including establishing a Citizens' Assembly.
According to the CEE Bill:
The Prime Minister has a duty to ensure the UK reduces its greenhouse gas emissions to a level consistent with keeping global average temperature increase to 1.5°C, compared to pre-industrial levels.
The Prime Minister has a duty to restore and regenerate soils, biodiverse habitats and ecosystems.
The Prime Minister has a duty to reduce the UK's impact on variety, abundance and health of both soil and biodiversity.
The Secretary of State has a duty to publish a strategy to achieve the specified objectives on climate change, ecosystems and biodiversity within 12 months of passing the Act, taking on board the recommendations of a Citizen's Assembly.
What would this mean in practice?
The UK would develop a serious plan to deal with our fair share of emissions and to halt critical rises in global temperatures.
Our entire carbon footprint would be taken into account – in the UK and overseas.
The active conservation and restoration of nature here and overseas, recognising the damage we cause through the goods we import.
Those in power would not depend on future technologies to save the day; technologies that are used as an excuse for us to carry on polluting.
Ordinary people would have a real say on the right way forward in a Citizens' Assembly with bite.
---
---
What are we asking MPs to do?
We're asking all MPs to publicly back the Bill. We need the support of as many MPs as possible so that the Bill can move forward. The more MPs that back it, the pressure grows on Government to give it parliamentary time and continue its journey to becoming new law.
The Bill was first tabled by Caroline Lucas on 2nd September with the support of 20 MPs out of 650. It needs widespread support to be successful and move through to the second reading in the Commons. It has been given a date of 12th March for a second reading and debate. Although this is a successful first step we need much swifter action! We must keep up pressure on MPs to gain the widespread support we need.
A bill must be passed by the House of Commons and the House of Lords. We need a simple majority of MPs present (or peers in the House of Lords) to vote in favour of the Bill in order for it to be passed. It is then given Royal Assent and becomes an Act of Parliament – i.e. it enters into law.
Get involved!
If you know that your MP is going to vote for the CEE Bill then be hugely supportive of them!
For MPs who haven't publicly stated their support for the Bill, XR rebels and campaigners can act in a number of ways:
Ask your MP directly to sign the Bill. View and download the template letter to MPs to get you started. Remember, it's more likely to be taken seriously if you make it personal to you. Find your local MP here.
Lobby your MP at their constituency office. As a constituent you can phone your MP's office and ask for a meeting – most MPs hold surgeries on a Friday in their local office. At the meeting, show them the Bill and ask them to add their name to its supporters. Keep doing this, every week.
Publicly call on your MP to sign the Bill. Tweet them, contact your local press or ring up your local radio station and call on your MP to sign the Bill on air. Use thehashtag #CEEbill
Join the CEE Bill campaign to access brilliant resources for writing to and tweeting your MP. Once you sign up you'll receive an automatic email with links to all the resources.
Welsh rebels: The CEE Bill is not an issue that Members of the Senedd (MS) can vote on. Welsh rebels and campaigners should lobby their Westminster MP in the ways listed above.
How can I find out more?
If you still have questions, you can email the CEE Bill campaign team at CEEbill@protonmail.com